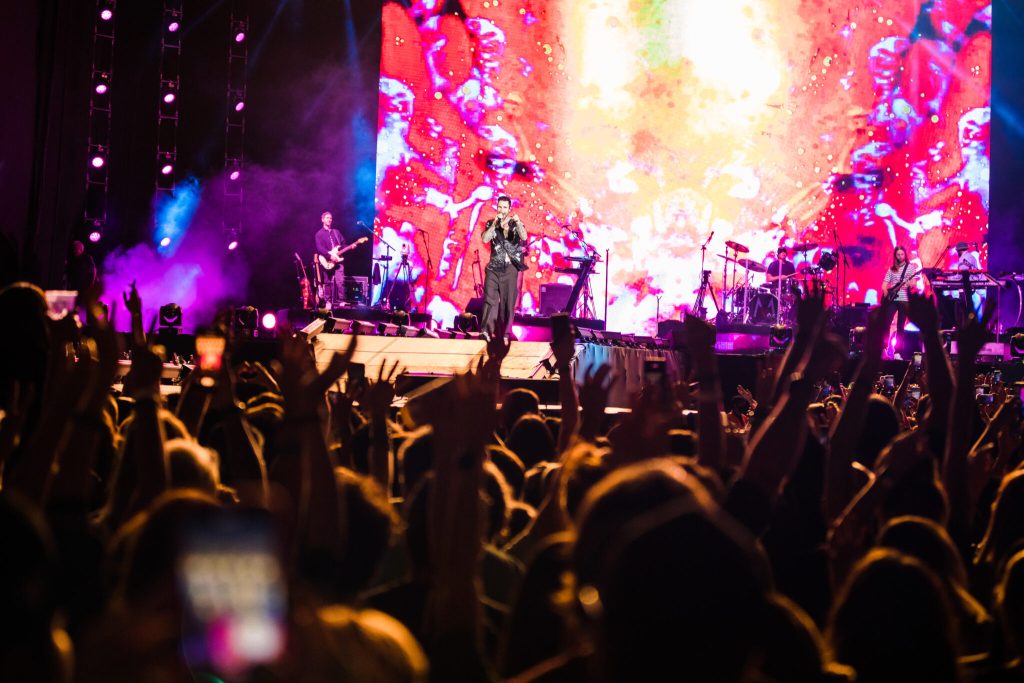 More great press coverage of Touring & Mental Health: The Music Industry Manual came via the fab folk at SPIN.
We've put the whole article below, but you can check out the original here.
Stress, Boredom, Burnout: The Impact Of Touring On Mental Health
Experts discuss how life on the road can affect "your mind, body, and relationships"
| May 4, 2023 – 5:23 pm | Updated May 4, 2023 – 6:47 pm
Touring as a band has always struck me as somewhat of a "magical" experience. You're on the road with incredibly talented musicians, traveling the country or the world, depending on the level of your band's success. Jetting from city to city to envelop adoring fans in your sound and give each crowd an experience they'll never forget. Every day is a new adventure with a sepia filter while your songs play in the background, a music video of wild experiences for your bandmates to reflect upon later in life with nostalgia. However, recently I read an article about the mental health crisis in the music industry, and it was an eye-opening dive into some of the more realistic experiences artists encounter while touring.
In years prior, I heard mentions of touring being difficult, but that many artists loved it so much that the highs were worth the lows. This take seemed to cancel out any challenging or traumatic experiences, with the latter topic being rarely discussed in detail. Reading about the mental health crisis was like finding the other half of the puzzle pieces I needed to complete the whole picture of the touring experience. The article mentioned this 640-page beast of a book called Touring and Mental Health: A Music Industry Manual, and I was immediately intrigued. Although my dreams of going on tour with Mumford & Sons as their resident journalist might not come true (a girl can dream, right?), at least this book could get me close to the reality of being on the road. And I was right… to an extent.
Written and edited by Tamsin Embleton, MA, MBACP, Touring and Mental Health is a comprehensive guidebook that covers every topic you could think of in relation to touring and its effects on mental health. Embleton's inspiration started in 2010 when she was on the road as Touring Manager for Anna Calvi, opening a tour for Grinderman, one of Nick Cave and the Bad Seeds' side projects.
"When I became a tour manager, I realized I'd underestimated how stressful touring can be to your mind, body, and relationships," says Embleton. Between 2016 and 2018, she researched the psychological impact of touring, and in 2018, she set up the Music Industry Therapist Collective (MITC), a global group of professionals, all of whom have worked in the music business prior to retraining as therapists.
In 2020, Embleton began researching the impact touring had on romantic relationships, particularly when one person toured and the other stayed home, in an effort to add more clinical research and advice to the existing statistics and information. "I thought MITC were well-positioned to curate a guide covering the myriad issues that impact those who tour, and those who are left at home," says Embleton. The next three years were spent coordinating an international team of performing arts professionals and interviewing over 80 prominent touring crew and artists, including Nile Rodgers, Justin Hawkins (The Darkness), and Laura Marling, whose anecdotes brought Touring and Mental Health to life.
In my curiosity to learn about touring and how it takes its toll on artists, I talked to another expert who had put in time on the road. Ryan Dusick, Associate Marriage and Family Therapist and the founding drummer of Maroon 5, gave me a look into what touring is actually like. "I was on tour for four or five years of my life, and the first time we did it in '97 when I was 19 years old, we were in a standard 15-passenger van…[with] all our instruments, amps, and everything we needed to put on a show," says Dusick. He estimated an average of driving six hours a day while they toured the country playing at any pub, bar, or club that would have them.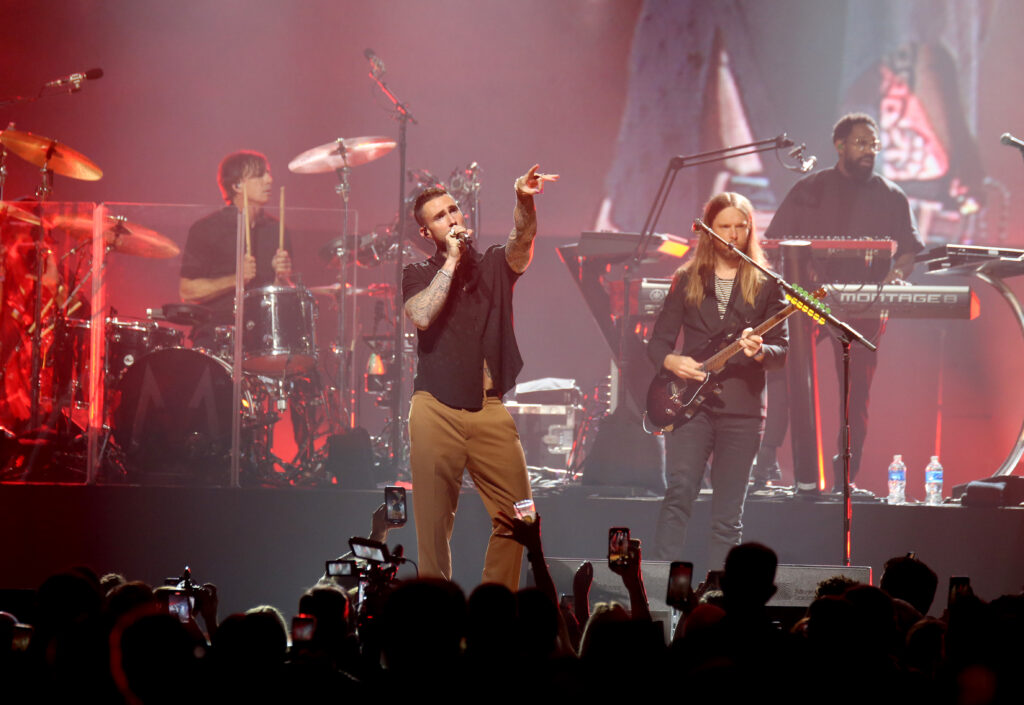 The schedule is grueling and relentless, especially for groups that are on the rise. "In 2002 and 2003, we did 500 shows," says Dusick, not including the radio station performances, record store performances, interviews, and meet-and-greets. There was no warning or discussion of how difficult being on the road was. The group received basic media training before interviews, but no one explained how to take care of themselves on tour.
When Maroon 5 began touring stadiums, a level of boredom was introduced as the group was relegated to locker rooms after soundcheck, with no ability to leave before the show. "I hear a lot of headliners describe…that performing is such an addictive high and that two hours on stage is what they live for. And in the same sentence, they'll say touring is really boring, monotonous, and depressing," he says.
For Dusick, the exhaustion of touring built up over time, until everything broke in the Milan airport. "When we hit our first headlining tour we were playing longer sets late into the night and nothing was relenting. It was all the promotion on top of the performances," he explains. The drummer was also experiencing physical pain due to a previous shoulder injury, which coincided with mental health issues he had yet to become aware of. "I kept asking management, can we just take a month off at some point? And the answer was, of course, 'no,'" he says, as Maroon 5 were in the middle of promoting their first major hit and it was all hands on deck to take advantage of this opportunity.
Unfortunately, this scenario is not abnormal, according to Embleton. Most artists in the beginning don't have a lot of say in how they tour and the scheduling of shows. "Often it takes burnout or sustaining an injury or mental health issue [for them to say], 'OK, I can't tour like [this]," she says. For Dusick, the point of burnout was right around the corner.
"We were in Milan at the end of a run of [show] dates," says Dusick. "And I was really looking forward to two weeks [off at home] … As we were getting into the van to go to the airport, our tour manager hands us a new itinerary, which has a week in Australia and another week somewhere else… I completely fell apart."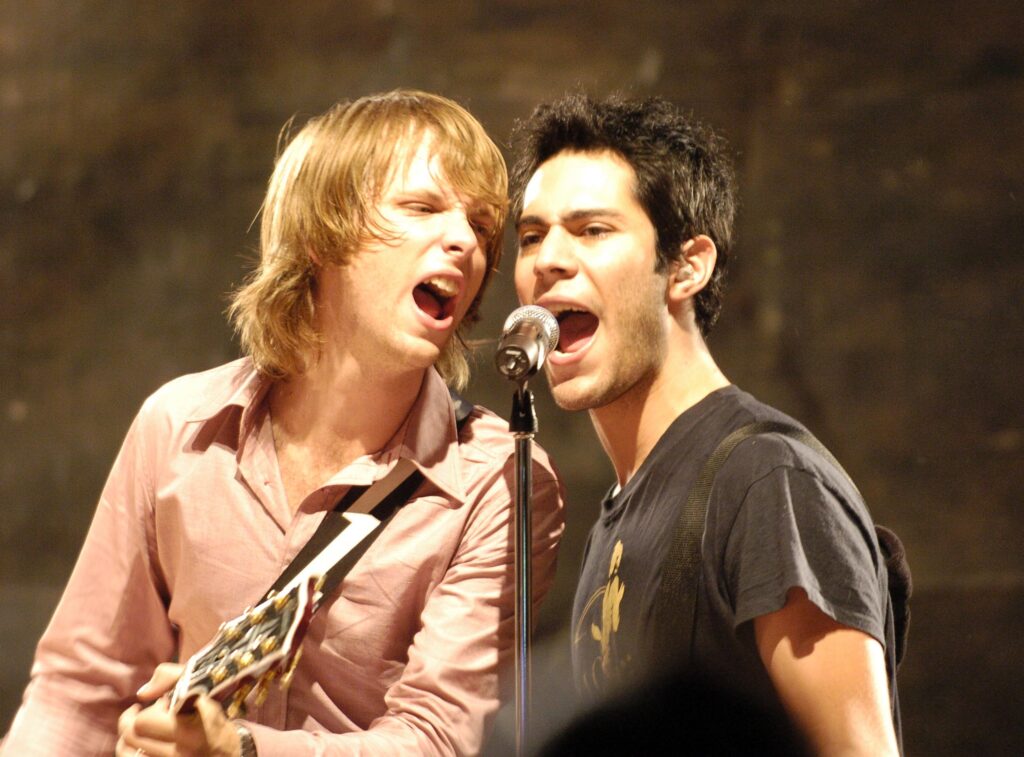 That feeling never dissipated, according to the drummer. "I was like, I can't keep doing this. This is killing me," explains Dusick. His shoulder injury became worse, and he began to develop focal dystonia, a neurological condition that causes involuntary muscle contractions in a specific part of the body. Colloquially known as "the yips," it can manifest as a block or a cramp in the body, making it nearly impossible to perform repetitive movements. "All of a sudden, your body just won't execute something it's done a million times. … [I]t's essentially when you put the body under such strain with repetitive activity and it starts to recognize it as a threat," he says.
The drummer took a step back from the band and did everything he could to find a solution. "I went to every kind of doctor you can in the world, and they all had some answer or no answer, but nothing felt like a solution," he says. He began self-medicating with alcohol, a common behavior among male musicians, according to Embleton, who says, "Men report alcohol and drug dependence [when struggling with mental health] at three times the rate of women."
Dusick saw multiple psychiatrists and a therapist but was still experiencing high levels of anxiety and depression. "I was starting to have panic attacks at night, not coincidentally at the same time that I used to go on stage every night," says Dusick.
Despite the band's history and close friendship, Dusick didn't feel able to talk about what he was experiencing with the rest of the group. This resulted in intense feelings of isolation, even while surrounded by his close friends. "If I had been further along in my emotional and psychological development, I would have made more of an effort to communicate what was going on with me," he says.
It's important to note that Dusick's experience was happening during the early 2000s, when mental health was still a hush-hush topic, especially between young men. Even today, Embleton found that "40% of men would not consider discussing their mental health until it reached a crisis point where they were thinking about suicide or self-harm."
Putting that disturbing statistic aside, mental health has become more openly discussed in the last 5-10 years, according to Embleton:"Artists are calling a spade a spade, and canceling tours for mental health reasons rather than using euphemisms like 'exhaustion.'" At the time, Maroon 5 blamed Dusick's shoulder injury for his departure from the group, even though that was only part of the reason.
Dusick is amongst the musicians speaking out about mental health with his recently published book, Harder to Breathe: A Memoir of Making Maroon 5, Losing It All & Finding Recovery. It's a vulnerable and honest description of his experiences touring with Maroon 5 and leaving the band in 2006.
After the pandemic, fans may be more familiar with artists canceling tours due to mental health reasons and being open about their struggles. "It's important to know that you can have a mental illness and be high-functioning in some areas of your life, whilst having significant difficulties in others," says Embleton. This, essentially, is the message that Touring and Mental Health is sharing. The music industry is stepping into a new chapter where artists, crew, and management are encouraged to talk openly about their needs around mental health and are given the tools and resources to do so.
This is not a book that you read cover to cover — it's a manual (that's why it's in the title) to carry on the bus and flip through when you have questions about your mental health. Everything is broken down into digestible bites. Sometimes the psychology language is a bit advanced for the layman, but keep your phone handy to look up terms you don't understand.
The important thing to remember is that none of these resources offered by Embleton will have any effect on you if you don't do the work. Mental and emotional health is a long-term commitment that will literally save your life, but you must put in the effort.
So while Touring and Mental Health may not be the cure, it's a welcome addition to the tool kit for all people in the music industry.